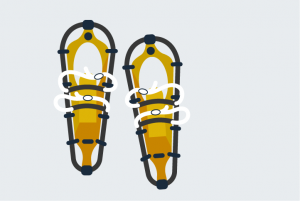 Get Active
Getting outside and getting active is proven to improve mood and mental health, not to mention how fun it is.  Snowshoeing, cross-country skiing, tobogganing and skating around on an outdoor rink are all great ways to feel energized and put a smile on your face.
Snowshoe

Snowshoe Rentals
Asable Bayfield Conservation Authority (ABCA)
Places to Go Snowshoing
Wawanosh Conservation Area
Forest Tract
G2G Trail
Cross-Country Ski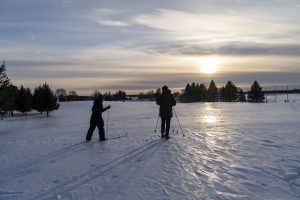 Look for the cross-country skiing icon in the Ontario's West Coast Hiking Guide to see which of the trails are open to cross-country skiing.  Note: trails are not groomed.
Here are a few suggestion of places to try cross-country skiing:
Falls Reserve Conservation Area
Forest Tract
Outdoor Skating Rinks
There will be no charge to use the ice.
Hours, Saturdays and Sundays: 12:00 – 5:00 pm (weather dependent).
Food and drink will be available from our wine trailer. At this time we are accepting debit or credit. 
Our rink rules can be found the Dark Horse webpage.
Please fill out the waiver form before using the ice: A member of Dark Horse Estate Winery Inc. must be present when you are using the ice rink, as this is a private business.
To check the rink's condition before you arrive, call (519) 671-5003 
*The skating rink is to be used for skating only. No recreational sports.
* Please confirm rink is operating and rules directly through Dark Horse Estate Winery.