Huron Harvest Table
It's harvest season in Huron County! The time to gather the crops, enjoy the abundant riches from our agricultural land, and share gratitude with friends, family, and the community. 
Below are some ideas that offer the year's final opportunities to indulge in local produce. Enjoy the bounty of the county with us!
---
Taste of Huron App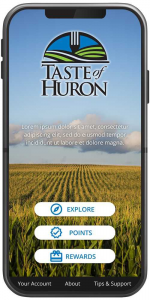 Enjoy the bounty of Huron County's agricultural products, from beer and wine to artisanal cheese and memorable meals!
Collect points to redeem on purchases.
Download the app from Google Play Store or iOS App Store.
Finding local, fresh and delicious food doesn't get any easier than in Huron County, especially during harvest time. Let our locally-grown ingredients shine with the Huron Harvest Table series of cooking videos and recipes for your traditional Harvest feast.
Huron County is the most agriculturally productive region in Ontario so fall around here means harvest season. Plan a day trip to enjoy our breathtaking fall colours and the abundance of fresh produce grown on Ontario's West Coast here!
The Grateful Pumpkin
Pop by a local pumpkin patch and take part in this gratitude challenge!
Throughout the month, add one thing you are grateful for each day to your pumpkin. At the end of the month, reflect back on the many things you and your family and friends are grateful for. Share your pumpkin on Facebook with Huron EarlyON and Ontario's West Coast!
Who doesn't love pie? Find out where to get the best tasty, fresh baked pies across Huron County and share your favourites with #OntariosWestCoast!
Discover what's growing in Huron County, Ontario's newest wine, cider and craft beer destination! Visit farm-to-tap craft breweries and family-owned wineries, creating distinctive bespoke vintages from unique, cold climate grape varieties grown on site.