Finding local, fresh and delicious food doesn't get any easier than in Huron County, especially during harvest time. Let our locally-grown ingredients shine with the Huron Harvest Table series of cooking videos and recipes for a traditional Harvest Feast.
Follow along on Facebook for videos showing you how to expertly prepare one of the dishes in the Harvest Feast menu and helping you to find locally-grown and produced ingredients so you can bring the best of Huron County to your harvest table this season.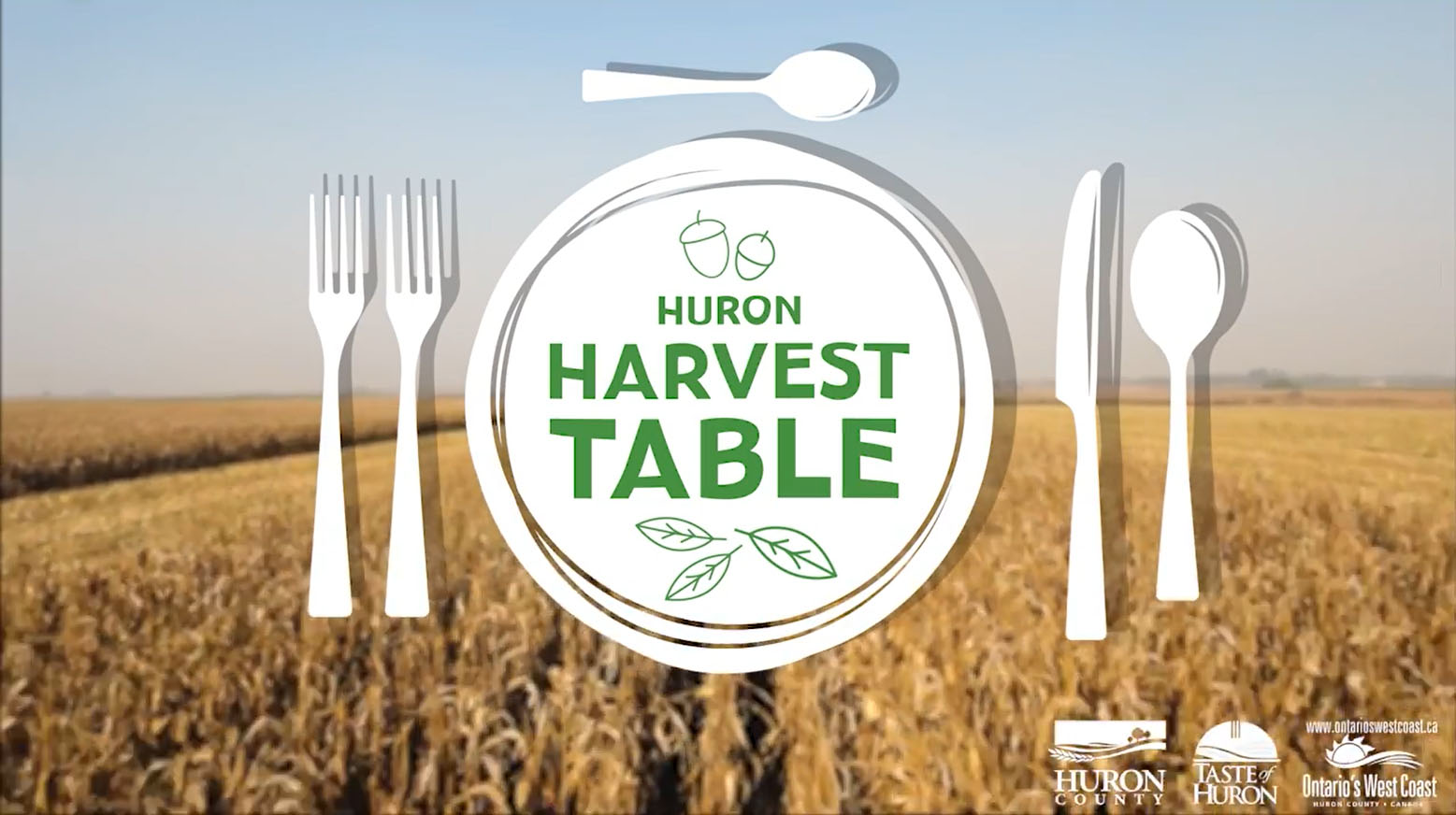 Your content goes here. Edit or remove this text inline or in the module Content settings. You can also style every aspect of this content in the module Design settings and even apply custom CSS to this text in the module Advanced settings.
Turkey Butter
Ingredients:
1/2 pound butter
5 sage leaves
4 rosemary sprigs
1/2 large onion
3 cloves garlic
Salt and pepper to taste
Mix all ingredients together.
Turkey Prep
Directions:
Remove giblets and neck from turkey.
Prepare roasting pan with a roasting rack or lay down a layer of vegetables (carrots/celery/onion) on the bottom of the pan to put the turkey on for more flavor.
Stuff cavity of the turkey with quartered onions and lemons, alternating as you go. Can also add in some fresh garlic cloves if you like. Top onion and lemon with a bunch of fresh herbs – combination of sage, rosemary, thyme and parsley, whatever you have on hand.
Cover the turkey with your prepared butter (see Turkey Butter recipe above). Add a bit of fresh cracked pepper. No additional salt required as butter is seasoned.
Place turkey in 350°F degree pre-heated oven. Roast turkey for approximately 18 minutes per pound until juices run clear and meat thermometer reads 180°F in the thickest part of the thigh.
For more information and recipes on roasting turkey including defrost and cooking calculators visit: ontarioturkey.ca
Stuffing
Ingredients: (Serves 4-6)
1 small yellow onion – medium dice
2 stalks celery – medium dice
1/3 cup butter
2 tsp poultry seasonings, or 1/2 tsp ground sage, or 1 tsp Newfoundland summer savoury
Salt and pepper to taste
6 cups bread cubes – 1/2" dice – use day old/stale local bread
1.5 to 2 cups chicken broth
1/2 Tbsp fresh herbs – sage, thyme, summer savoury…whatever you have on hand
Directions:
Preheat oven to 350F
Melt butter in a large skillet over medium heat.
Add onions, celery and poultry seasonings.  Cook over medium-low until tender, do not brown, for about 10 minutes.
Place bread cubes in a large bowl.
Add onion mixture and fresh herbs.
Pour broth over bread cubes and are moist, but not soggy, and gently toss to evenly coat with seasonings and distribute the onion mix.
You may not need all the broth depending on the bread you use.
Place the mixture in a baking/serving dish lightly greased with butter, season with salt and pepper to taste and dot the top with additional butter and cover.
Bake 35 minutes, uncover and bake an additional 10 minutes or until you get an golden crispy top.
Brussels Sprouts
Ingredients:
1 pound brussel sprouts
3 tablespoons olive oil
2 large cloves garlic
Sprig of rosemary
Optional:
Chili flakes
1/2 pound bacon, chopped
3 tablespoons maple syrup plus extra for drizzling
1/2 lemon
Salt and pepper
Garlic Smashed Potatoes
Ingredients: (Serves 4-6)
1 Tbsp of Garlic Mashed Potato Seasoning from The Garlic Box or 1 whole head fresh garlic (roasted and mashed)
2 Tbsp olive oil
2 pounds Yukon gold potatoes, washed and cut into 1" cubes – leave the skin on
1/2 cup half and half or heavy cream
3 Tbsp butter
Grated Parmesan or Asiago cheese
Directions: 
Place, washed and cut potatoes in a pot and cover 1" above potatoes with cold salted water. Bring to a boil, reduce to a simmer.  Cook until potatoes are fork tender, about 20-25 minutes.  Drain and return to pot.  Heat over medium-low heat while stirring for a couple of minutes until potatoes are just starting to stick to bottom of pot.  Remove from heat, add half-and-half, or cream, butter and add the garlic mashed potato seasoning or roasted garlic.  Mashed until smooth.  Add cheese and adjust seasonings with salt and pepper to taste
Roasted Garlic:
Preheat oven to 375F. Cut off and discard top quarter of garlic heads, just enough to expose every piece of garlic.  Drizzle with olive oil, wrap in tinfoil.  Bake until tender, about 1 hour. Squeeze out garlic cloves, discard the skins.
Pie Pastry
Ingredients:
2.5 cups flour
2 tsp each sugar and salt
1 cup butter or lard
1/2 cup ice water
Pumpkin Pie Filling
Ingredients: (Makes 2 pies)
4 eggs
1 cup brown sugar
1 can (796ml) pure pumpkin
2.5 tsp pumpkin pie spice
1/2 tsp salt
1 tsp vanilla
1.5 cups heavy cream
Directions: 
Bake pie at 425 for 15 minutes
Reduce heat to 350 and bake 35-45 minute