Museums & historic sites
Explore our museums and historic sites! Huron County's communities welcome visitors to discover their unique character and heritage. Our museums and historic sites provide immersive experiences that bring our story to life.
Courtesy of Huron County Museum & Historic Gaol
Huron County Museum
110 North Street, Goderich
Permanent and temporary exhibits that depict Huron County's history and culture.
Courtesy of Huron County Museum & Historic Gaol
Huron Historic Gaol
181 Victoria Street, Goderich
A national Historic Site, Huron Historic Gaol served as the County Jail from its opening in 1841 until closure in 1972.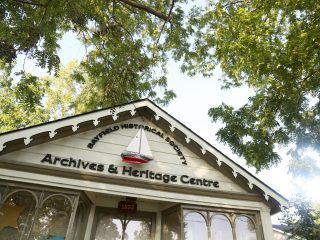 Bayfield Archives & Heritage Centre
20 Main Street North, Bayfield
The Heritage Centre features artefacts and short videos that showcase Bayfield's history.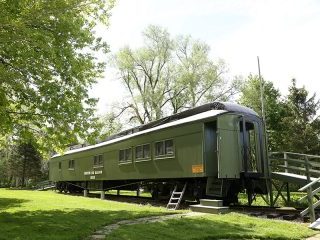 CNR School on Wheels Museum
76 Victoria Terrace, Clinton
A museum located inside a century old wooden railcar that was part of Northern Ontario's unique railcar school system (1926-1997).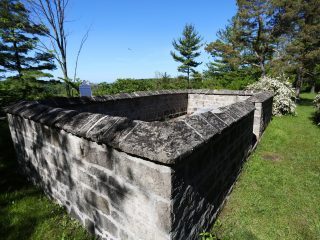 Gairbraid
81501 River Ridge Crescent, Goderich
The burial plot of Goderich founder, Dr. William "Tiger" Dunlop is located along the Maitland Trail on land overlooking the Maitland River where he planned to build a new town named Gairbraid.
Courtesy of Loretta Ayotte
St. Joseph Historical Park
33996 Park Avenue, St. Joseph 
Historical information plaques tell St. Joseph's unique French-Canadian history. One of the heritage plaque faces the spot in the lake where the Wexford sunk in the Great Storm of 1913.
At the intersection of Bluewater Highway and Zurich-Hensall Road.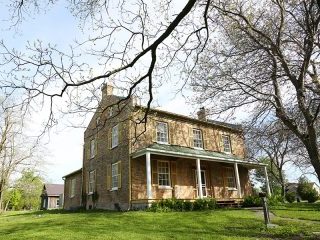 80 Kippen Road, Egmondville
Country manor house built in 1846 has been carefully restored and furnished with period appropriate furnishings.