CENTRAL HURON
The Municipality of Central Huron is in the heart of Huron County. It attracts many young families, as it's a great place to live and play. Choose from many recreational facilities including the Clinton Raceway, REACH Huron, skate park, hiking trails and campgrounds. A perfect destination for the outdoor enthusiast.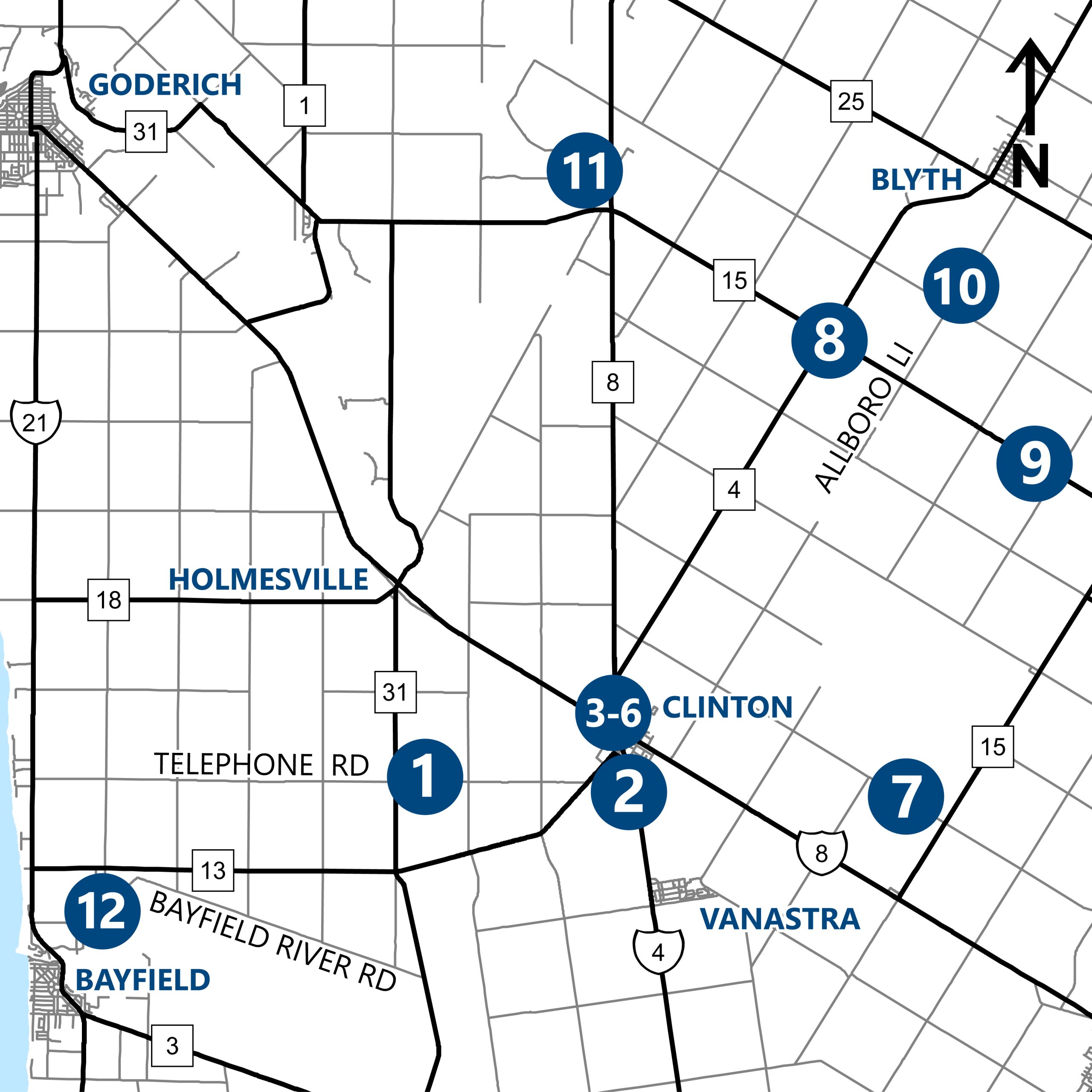 1. Bluestone Wake Park
37524 Telephone Rd, Clinton
Bluestone Wake Park is here to help you enjoy every moment on the water, whether it's your first time wakeboarding or you want to learn new tricks, we have a great team of instructors to help you out. Bounce around with your family and friends on their floating obstacle course in the Aqua Park. Canoe, kayak and stand-up paddleboard lessons and rentals are also available.
2. CNR School on Wheels Museum
76 Victoria Terr, Clinton
A museum located inside a century-old wooden railcar that was part of Northern Ontario's unique railcar school system (1926-1997).
3. Radar
Clinton was known as "Canada's Home of Radar", and this has been commemorated by a large communications radar antenna which was used at the RCAF Station (a training centre) outside Clinton during World War II. The radar antenna is located on the main street in Clinton. Visit at night to see the radar illuminated in the dark! The radar is also a stop on Clinton's historic downtown walking tour, which features 15 stops exploring local history.
4. Harvest Fest
23 Albert St, Clinton
Harvest Festival in Clinton is an annual fall festival that has something for the whole family to enjoy! On September 16, Albert Street will host a vendor's market, a car show, rock climbing, bouncy castles, and much more. Participation is free, so everyone can join in the fun!
5. Light Tunnel 
23 Albert St, Clinton
Light it up! Visit the radar and the light tunnel both located on Clinton's Main Street for an Instagramable moment.
6. Bartliff's Bakery & Restaurant
46 Albert St, Clinton
Bartliff's Bakery & Restaurant has been operating in Clinton for over 120 years! It started out as a bakery and the bakery counter remains a favourite with customers, especially its gourmet-inspired donuts.
7. Hullett Marsh 
41378 Hydro Line Rd, Clinton
Hullett Provincial Wildlife Area is a no-fee, multi-use, multi-season facility, known best for its waterfowl and pheasant hunting. Opportunities for wild game hunting (with Sunday gun hunting), hiking, horseback riding, birding, canoeing and various other activities can be found at Hullett Marsh.
8. Nature's Nest
309 King's Rd, Londesborough
Backyard birders will find everything they need to keep your feathered friends happy and singing at Nature's Nest in Londesborough.  Find feeders, custom seed blends, home and garden décor in this unique shopping environment.
9. Home on the Range 
41073 Londesborough Rd, Londesborough
Saddle up and enjoy the countryside on horseback at Home on the Range.  Take the entire family and make great memories riding the friendly horses on the farm.
10. Blyth Farm Cheese
82521 Allboro Line, Blyth
Blyth Farm Cheese is a small on-farm family business close to the historic Village of Blyth. All their cheeses are made using sheep's milk and are made in a Gouda style. Everything from the farming to milking to cheese making and packaging is done right on their farm.
11. Fun Fact
Ball's Bridge 
38199 Little Lakes Rd
Ball's Bridge was erected in 1885 to connect Goderich with outlying areas to the east. The structure is a rare example of a two-span Pratt design through truss, pin-connected wrought iron bridge. Ball's Bridge has been dubbed "The Bridge That Love Built," since the engineer built it so his lover could cross the river without getting wet. It's a romantic place for photos with a view of the Maitland!
12. River Road Brewing
35449 Bayfield River Rd, Bayfield
River Road Brewing & Hops is Huron County and Bayfield's first farm-based brewery dedicated to providing you with delicious and quality crafted beers and produce. Each of their beers offer you a unique tasting experience. The ingredients that go into making their beer are grown right on the farm giving you a fresh taste like no other brewery.