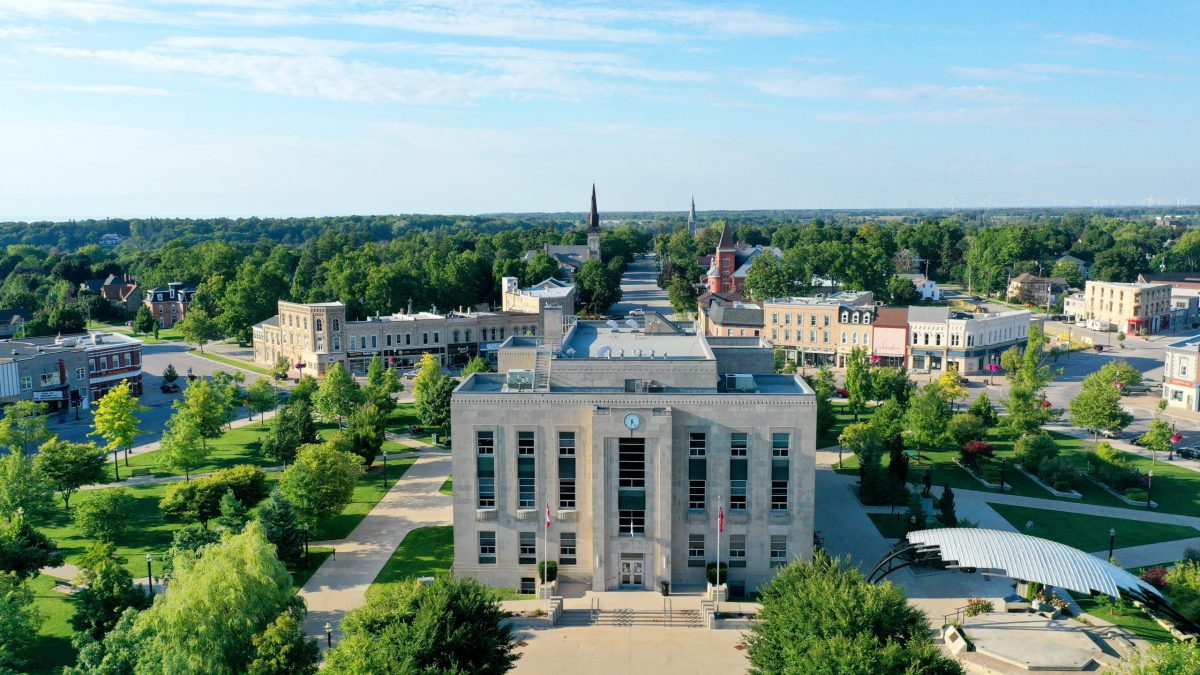 Goderich, known as "Canada's prettiest town", is Huron County's largest community. A busy port, it is the only deepwater port on the eastern shore of Lake Huron, welcoming 250 ships annually. In the centre of town, you'll find The Square (actually an octagon) with shopping, dining, festivals and events, and Culbert's Bakery— home of the famous cream puff.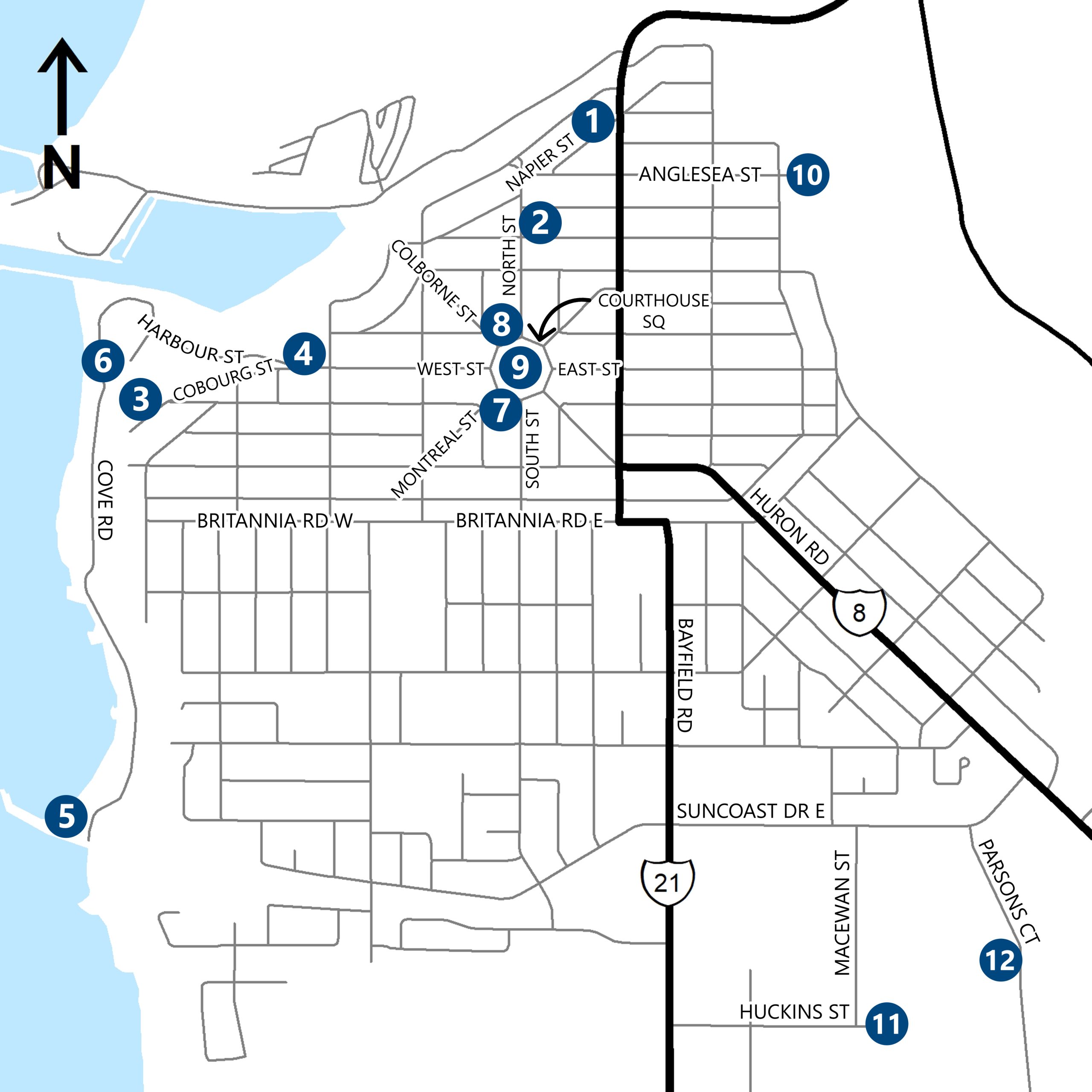 1. Huron Historic Gaol
181 Victoria St N, Goderich
Huron Historic Gaol served as the County Jail from its opening in 1841 until its closure in 1972.  Go Behind the Bars on Tuesday and Thursday evenings in July and August for an immersive tour experience where a volunteer cast steps back in time to portray real life inmates and staff from the Gaol's past.
2. Huron County Museum
110 North St, Goderich
The Huron County Museum is home to thousands of artifacts that illustrate the history of our communities. Permanent exhibitions feature early settlement, agriculture, military, and main street galleries including a full-size steam locomotive and best of all a two-headed cow!
3. Goderich Lighthouse
1 Harbor Lane, Goderich 
Goderich Lighthouse is the oldest lighthouse on the Canadian side of Lake Huron! Built in 1847, this iconic structure, is a great spot for a picnic lunch or to sit on one of the many benches and view a famous Lake Huron sunset from.
4. Goderich Celtic Roots Festival
166 West St, Goderich
Goderich Celtic Roots Festival takes place in Lion's Harbour Park, Goderich from August 7-13. There is something for every Celtic music fan! Enjoy strolling through our Artisan Village and take in music from a lineup of international and award-winning musicians over the festival weekend, a not to be missed event!
5. Goderich Beaches
270 Harbor St, Goderich
Goderich offers a choice of three different beaches. The Main Beach is a large sandy beach featuring a boardwalk, snack bar, and playground. Rotary Cove, a crescent-shaped beach is shallow and sandy and St. Christopher's Beach offers sun and shade, rocks to perch on.
The Main Beach and Rotary Cove are equipped with Mobi-Mats that allow someone using a mobility device to roll or walk right on top of the sand from the parking lot almost to the edge of the water.
6. Beach Street Station Restaurant
2 Beach St, Goderich
After a day at the beach, enjoy a bite to eat and catch the sunset from the patio at Beach Street Station. Once the home of the Canadian Pacific Railway (CPR) Station in the Goderich Harbour this landmark was restored and converted into a quaint family-friendly eatery.
7. The Yoga Den
68 Courthouse Square, Goderich
Stand-up Paddle Boards from The Yoga Den in Goderich. Explore the clear waters of Lake Huron by paddleboard! Try a Sunset SUP Yoga class. Bring a group for a lesson or a class or get a private 1 on 1 of SUP basics and safety. Lessons are available 7 days a week.
8. Part II Bistro
10 Courthouse Square, Goderich
Part 2 Bistro is located on the historic Courthouse Square Goderich. A small, intimate bistro serving locally sourced, award-winning fare including vegetarian options. Fully licensed. Serving craft beers and diverse wines.
9. Courthouse Square
1 Courthouse Square, Goderich
Experience "The Square" the heart of Goderich. This venue hosts many festivals, events and concerts. Enjoy shopping, dining and historic charm.
10. Maitland Valley Grotto
199 Anglesea St, Goderich
A bouldering gym offering bouldering for all levels. Fun and fitness are the main purposes for beginners. Bouldering is one of the most efficient ways to learn climbing techniques and increase your strength and mobility. And it's fun!
11. Maitland Woods
390 Parsons Ct, Goderich
Maitland Woods is a 3.4 km loop trail right in Goderich. This is a popular trail for birding, hiking, and walking, but you can still enjoy some solitude during quieter times of day. The trail is open year-round and is beautiful to visit anytime. Dogs are welcome but must be on a leash.
12. Square Brew
430 Parsons Ct, Goderich
Goderich's craft brewery, Square Brew opened in 2017. Focusing on beer that they like to drink and served in a casual atmosphere. All their beer is made in-house at their brewery and is offered by the glass in their taproom or cans to-go.
Fun Fact
Goderich Salt Mine
Goderich is home to the world's largest underground salt mine. Located at the mouth of the Maitland River it extends several kilometres under Lake Huron. The salt mine is as deep as the CN Tower is tall.  The Goderich Salt Festival is celebrating everything salt from September 15 – 17th.