Nature lovers will find themselves delighted by the diverse outdoor recreational offerings. The Ausable River winds through the region, offering opportunities for fishing, canoeing and kayaking. Hikers and cyclists can explore scenic trails that meander through lush forests and alongside rolling fields, immersing themselves in the tranquillity of nature.  The Town of Exeter offers visitors excellent retail shopping and dining options.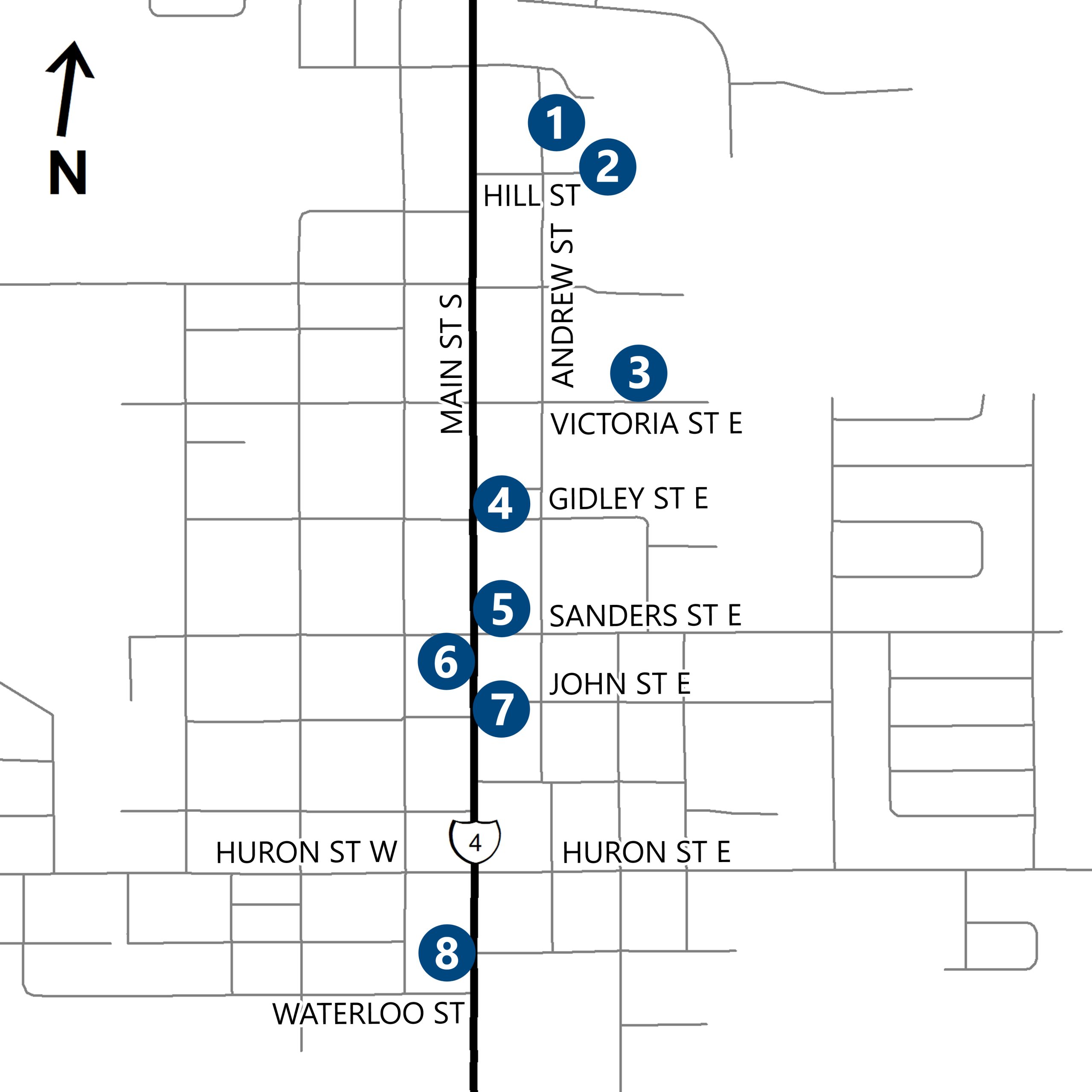 1. Exeter Splash Zone
49 MacNaughton Dr, Exeter 
The Exeter Splash Zone is open 7 days a week from 9:00 am to 8:00 pm from May to September. Conveniently located next door to the outdoor swimming pool and McNaughton Park and the South Huron trailhead.
2. South Huron Trail
62 MacNaughton Dr, Exeter 
The South Huron Trail is an 8 km, all-season trail that winds through the scenic Ausable River Valley. This accessible trail links MacNaughton Park in Exeter and Morrison Dam Conservation Area, just 2 km east of Exeter. Thanks to trail loops of different lengths (2 km, 4 km, or 8 km), you can spend 20 minutes or two hours enjoying nature.
3. Exeter 150th Anniversary
HQ: 347 Main Street S, Exeter
Celebrate Exeter 150th from June 29 to July 2. The schedule of events for the Sesquicentennial Homecoming includes: guided walking tours, parade, live music, fireworks, and much more.
4. Exeter Ram Rodeo
94 Victoria St E, Exeter
Saddle up and visit the Exeter RAM Rodeo August 12- 13. Celebrating its 25th Anniversary in 2023, experienced cowpokes and dudes alike can enjoy this thrilling sport of bull riding, barrel racing, trick riding, saddle bronc and other rodeo mayhem.
5.  Huron Waves Music Festival – Gaia Exhibit
264 Main St S, Exeter
Headlining this year's Huron Waves Music Festival is an exhibit of Gaia, a large-scale replica
of planet earth created from NASA images by UK artist Luke Jerram. Visit the Gaia exhibit at Trivitt Memorial Anglican Church. Visit Gaia from June 1 to July 3 (open daily except Mondays).
6.  Shopping Exeter Main Street 
303 Main St S, Exeter
In need of some retail therapy? Head to Exeter's downtown where you'll be happily surprised by the great shopping you'll find. Luxurious home décor, on-trend fashion, artisanal local food, chocolate and candy confections and quilting and sewing supplies to list just a few.
7. White Squirrel Bakery
386 Main St S, Exeter
The White Squirrel Bakery promises traditional handmade bread and baked goods made with locally sourced ingredients. The bakery's open concept kitchen lets passersby view the bread being baked from the window on the street and from inside the bakery!
8. Eddington's of Exeter
527 Main St S, Exeter
Enjoy Eddington's of Exeter where Owner/Chef James Eddington states that "We are blessed to
be living in such an agriculturally rich area of the world." He attributes the restaurant's success
in creating flavourful and creative meals to being able to consistently use the best of Huron
County's bounty.
9. Exeter Golf Club
40374 Kirkton Rd, Centralia
In 1961, a local farmer converted his farm to create the Exeter Golf Club.  Today this gently rolling, well treed 9-hole golf course bears little evidence of the farmland it once was; only the clubhouse give it away. A stunningly converted turn-of-the-century barns that serves "to die for" rustic home-made comfort food, and drinks from a mason jar!
10. Ironwood Golf Club
70969 Morrison Line, Exeter
Ironwood Golf Club offers you an excellent 18-hole golf course in superb condition at a good value. Those are some of the reasons why golfers come from all over southwestern Ontario and beyond to enjoy this scenic, challenging, tree-lined fairways and course.
11.  Hayter's Farm
37467 Dashwood Rd, Dashwood
Three generations of farmers are at the heart of Hayter's Farm. The on-the-farm store offers a wide range of turkey products including bacon, meatballs, sausage, burgers, roasts, schnitzels and whole birds.
12. Port Blake Day Park 
71111 Bluewater Hwy, Grand Bend
The very popular Port Blake Day Park is located just north of Grand Bend and offers a  sandy beach, washrooms and a picnic shelter. An admission fee is required for entry.
13. Huron Country Playhouse
70689 B Line, Grand Bend
Huron Country Playhouse located in a country setting, just minutes from Grand Bend and the sparkling shores of Lake Huron, is part of Drayton Entertainment. There are 650 seats in the
Mainstage auditorium and 300 seats in the South Huron Stage auditorium, featuring a playbill of
Broadway blockbusters, sidesplitting comedies, thought-provoking dramas, and plenty of family
fare.


Fun Fact
Exeter is known as the "Home of the White Squirell". These non-albino white squirrels believed to be the result of a recessive gene that produces the squirrel's rare white coat.  Look for them along the South Huron Trails or as you walk arund the Town's residential areas.