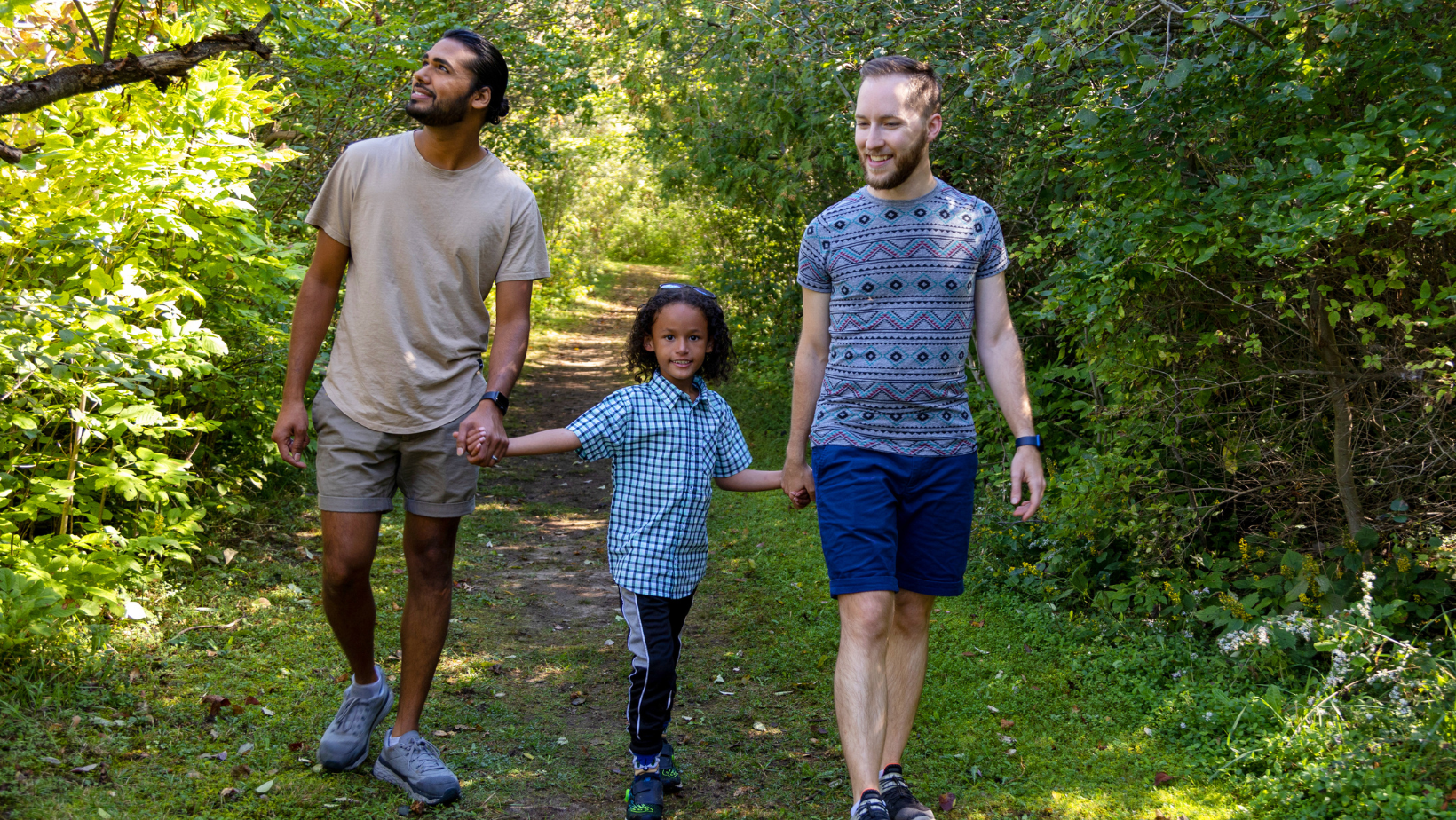 Go over the river and through the woods hiking the 35+ marked trails on Ontario's West Coast. Connect with nature, listen to birdsong, and leaf all your worries behind communing with trees.
For a full list of Huron County's hiking trails and route maps, view our Hiking Guide online here or pick one up at:
Goderich Tourist Information Centre
91 Hamilton St, Goderich
South Huron Welcome Centre
483 Main St S, Exeter
Huron County Libraries
Note: Woodlands Arboretum Trail on page 35 of the Ontario's West Coast Hiking Guide is closed until further notice. Thank you for your understanding.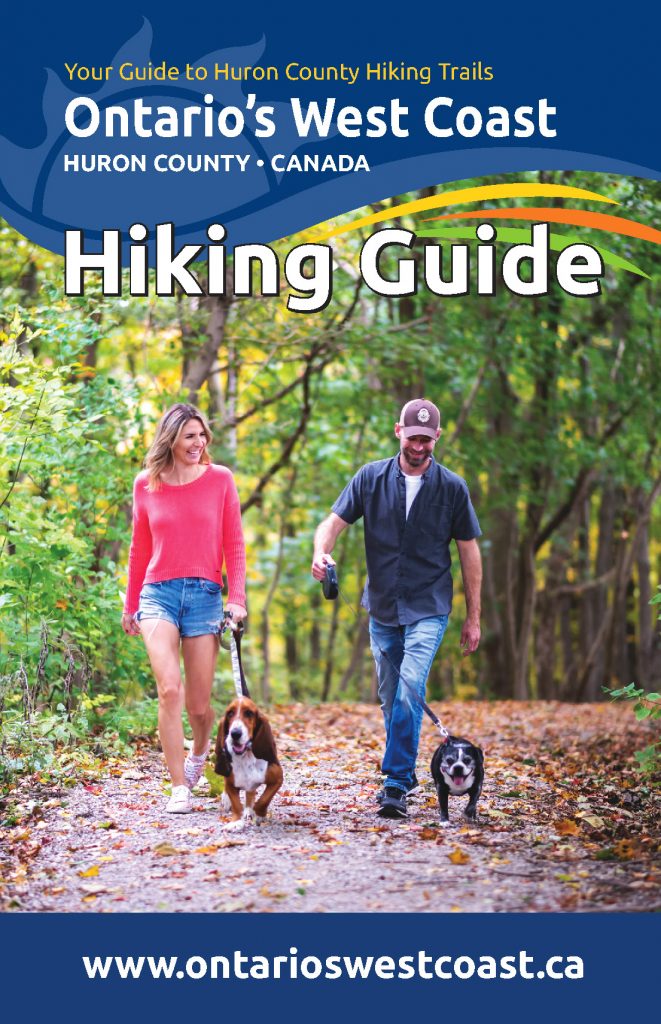 Maitland Trail
Difficulty: Easy to experienced, conditions vary depending on the section
Length: 51 km
Start: Several access points. Visit the website for information.
Follow the 51 km trail from Goderich to Auburn along the beautiful, winding route of the lower Maitland River, including areas of ecological significance. Traverse narrow pathways and wide rambling trails, hike over hills and through forests, and wander past farmland, river vistas, meadows, and forests.
Courtesy of Goderich to Guelph Rail Trail
Guelph to Goderich Rail Trail
Difficulty: Easy to experienced, conditions vary depending on the section
Length: 132 km
Start: Several access points, visit the website for information.
The Guelph to Goderich Rail Trail, or G2G, is a 132 km trail along the former CPR Railway line abandoned in 1988 and now a highly accessible public recreational trail for non-motorized use – walking, hiking, running, cycling, snowshoeing and skiing.
Bannockburn Conservation Area
Difficulty: Moderate, some hills
Length: 1.9 km
Start: 76249 Bannockburn Line
The 2 km trail loop located on Bannockburn Line is home to six different natural communities: wet meadow, white cedar, deciduous forest, marsh, old field, and mixed scrub. Early morning walks reward hikers with sightings of deer, grouse, and numerous songbirds.
Stingel Tract
Difficulty: Moderate to difficult
Length: 4 km
Start: Located 1.3 km west of Lucknow Line (County Rd. #1) on Glen's Hill Rd.
Located northwest of the village of Dungannon, this area was surveyed as a "long" hundred acre farm, nearly 1.35km in length. The main trails are an easy walk, ending in a gentle incline to the beautiful Nine Mile River that bisects the southeast corner of the property.
Sheppardton Tract
Difficulty: Easy to moderate
Length: 6.5 km
Start: Located on the east side of Hwy. #21, 8 km north of Goderich.
Named for the nearby pioneer village of Sheppardton, this 280 acre property is the largest of the Huron County forests. Because it contains a significant wetland within 2 km of Lake Huron, part of the property is classed as a rare "coastal wetland."
Moreland Tract
Difficulty: Moderate to difficult
Length: 4.5 km
Start: From Nile Rd. take St. Augustine Line north and turn east for 2.5 km on Hawkins Line.
Purchased by the County in 1963, over 60,000 trees were planted here as part of a province wide effort to reforest farmland. Forest  management is a key activity on this property, and the main logging trails provide ideal hiking opportunities.
Redmond Tract
Difficulty: Moderate to difficult
Length: Main Loop – 1.9 km; Hardwood Loop – 0.54 km
Start: From Donnybrook Line turn onto Westfield Rd. heading east. There is a main parking area on the south side of the road.
Featuring upland maple forest and towering white pines, the 150 acre tract offers year round hiking. As a "working forest," the Redmond Tract provides sustainable harvests of wood products while providing prime fish and wildlife habitat.
Stevenson Tract
Difficulty: Moderate to difficult
Length: West Main Loop – 2.32 km; East Main Trail – 0.54 km
Start: Located on County Rd. #16 (Morris Rd.) halfway between London Rd. and the village of Brussels just east of Clyde Line.
Explore a piece of Ontario's reforestation legacy on the beautiful mixed forest trails of the 200 acre Stevenson Tract. Bi-sected by the Maitland River and the Sunshine Creek, the tract features prime fish habitat and some of the best hiking trails in the county.
Robertson Tract
Difficulty: Easy to moderate
Length: 2 km
Start: From Blyth Rd. take Pinery Line south toward the Maitland River. Pinery Line bisects the Robertson Tract and ends at the Maitland Trail.
In 1936, the Robertson brothers started planting trees on marginal farmland, making Robertson Tract one of the oldest plantations in the County. The brothers left their family farm to the County as a legacy for future generations and a permanent natural buffer to the Maitland River.
Hullet Provincial Wildlife Area
Difficulty: Easy to moderate
Length: 13 km of trails and 18 km of dyke tops
Start: Several access points off of Hydro Line Road and Conservation Road
Located along the South Maitland River, the Hullett Provincial Wildlife Area consists of seven different coloured trails and dyke systems, each offering a large variety of ecosystems, wildlife, vistas, and plants that can be seen on the trails and viewing stands.
Sawmill Trail
Difficulty: Moderate
Length: 2 km
Start: From Highway 21, just north of the bridge in Bayfield, turn right on Old River Road and proceed 0.5 km and turn right at Sawmill Road. The trail entrance is at the end of this cul de sac.
One of the Bayfield River Valley Trails, the 2 km Sawmill Trail features a range of historical and natural points of interest. Naturalists will enjoy the changing terrain, varied plant life, and the telltale signs of abundant wildlife.
MacNaughton-Morrison Trail
Difficulty: Easy to Moderate
Length: 4 km loop
Start: From Hwy. #4, turn east at Hill St. to MacNaughton Park; or from County Rd. #83, turn south on Morrison Line (entrance across from Morrison Dam Conservation Area).
This 4 km trail winds through the scenic Ausable River Valley between MacNaughton Park in Exeter and Morrison Dam Conservation Area. The variety of trees, birds, and wildlife make this an ideal setting for nature enthusiasts.
Courtesy of Maitland Valley Conservation Authority
Wawanosh Valley Conservation Area
Difficulty: Moderate
Length: 3 km loop
Start: 38854 Nature Centre, Blyth
The Wawanosh Valley Conservation Area offers a scenic 3 km trail loop that crosses the Belgrave Creek, passes through meadows with hedgerow plantings, and down a steep hill to the cedar lowlands at the river. A boardwalk leads through the hemlock forest to the hardwoods and red pine plantation.
Wingham Community Trail
Difficulty: Easy east side of river, moderate (hilly) west side of river
Length: 2.5 km loop, 1.1km east of Josephine St.
Start: Several trail access points. The trail crosses Josephine St. near the railway tracks. Note: no winter maintenance available.
The Wingham Community Trail runs from east to west, meandering along the old abandoned rail bed, crossing the Maitland River and then it makes a loop around the Turnberry Flood Plain Conservation Area to take you back.
Taylor Tract
Difficulty: Easy to moderate
Length: 2 km
Start: Located on Harriston Rd. (County Rd. #87), 1 km east of Fordwich Line.
Taylor Tract contains many Eastern White Pine, making it a great place to marvel at our provincial tree. The level topography and relatively solid surfaces provide a great hiking venue for all ages and abilities.
HINTS & TIPS:
Planning to hit the trails? Don't forget these items to ensure you are prepared.
The what3words app allows you to find, share and navigate to precise locations. Download it from the App Store or Google Play.
Wear comfortable, water-resistant hiking boots, as some trails may be wet, particularly after a rainfall.
In every condition, hiking poles may add to the enjoyment of your hike.
Dress in layers for flexibility and comfort in any weather condition.
For longer hikes, bring along snacks or lunch.
The sun can be persistent! Wear a hat and sunscreen for proper protection.
Stay hydrated! Bring along at least 1 liter of water.
For a hiking route map, check out our Hiking Guide.